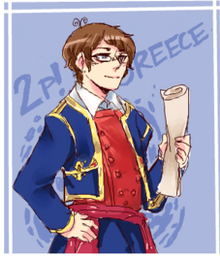 2P Greece is a fan interpretation of an alternative version of Greece. His human name is Hermes Karpusi.
Personality
Edit
Hermes is a rude Greek who laughs easily, has a coldpersonality and dark humour. He loves dogs, unlike his counterpart who is a cat lover. The people he likes and dislikes are unlike his counterpart, he likes 2P!Turkey, 2P!Germany, he dislikes 2P!Italy and 2P!Japan. Unlike his counterpart, he doesn't like to sleep. He preferred to explore his city town and find ways to make it a big success.
Appearance
Edit
He looks pretty much like his 1P! but his hair is a bit lighter, he has dark blue eyes, he wears a dark blue policeman costume and white gloves. His casual clothing consists of plain clothes and glasses. He also has a small curl on his head and another small curl on the back of his neck.
Ad blocker interference detected!
Wikia is a free-to-use site that makes money from advertising. We have a modified experience for viewers using ad blockers

Wikia is not accessible if you've made further modifications. Remove the custom ad blocker rule(s) and the page will load as expected.