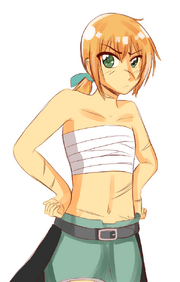 2p Liechtenstein the neutral ass is a neutral and tsundere character 
Appearence
2p Liechtenstein is shown wearing a green soldier shirt and green soldier pants, or a ace bandage around her chest with a green skirt with a buckle. she wears boots and is normally shown with a knife.
Personality
2p Liechtenstein is neutral, tsundere, just everything that !p switzerland is, which is a lot of things
Videos she appears in
there has never been an official 2ptalia movie but she does appear in the trailer, which means she will be appearing in the movie on the YT channel 
Artistic Vivi
.
Liechtenstein

| Name: | Liliet Zwingli | | | |
| --- | --- | --- | --- | --- |
| Height: | | | | |
| Weight: | | | | |
| Friends: | | | | |
| Acts like: | 1p Switzerland | | | |